KEEPING ALERT TO THE LATEST SAFETY STANDARDS AND POLICIES
Industries Suported
Our advisors can visit your workplace nationwide to offer an in-depth analysis of your operation. With this, Rural Safe offers comprehensive Safety Management Systems. These can be specific to the unique operations and practices which are currently in use in your workplace. If you cannot find your industry here, please contact us on 0800 577 233 and talk to one of our friendly staff
Agriculture-Horticulture
Multiple tractor movements and feeding systems need care around the shed at all times – be aware of what is moving.
AGRICULTURAL-CONTRACTORS
Contractors that work for our farmers are an important part of farm life, and often take on the more hazardous roles around the farm.
Trades
Would you like Health and Safety to run smoothly in your business? Builders, Electricians, Plumbers, Painters, Plasterers, Air Conditioning.
OFFICE / RETAIL
The hazards in the offices/workplace are many – slips, kicks, plan, operation, and chemical use. Do you have the appropriate controls and signage in place?
CIVIL WORKS
Call Rural Safe today on 0800 577 233.
OTHER INDUSTRIES
Non-routine activities such as equipment installations, repair, or decommission. Design Safety Reviews of new facilities, systems, and equipment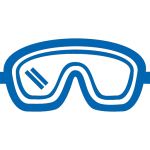 Safety Glasses
Eye protection must be worn
Hi-Viz-Vest
High visibility clothing must be worn
Safety Footwear
Safety Footwear must be worn
Safety Helmet
Safety Helmet must be worn
Ear Protectors
Ear protection must be worn
Face Mask
Facemask must be worn